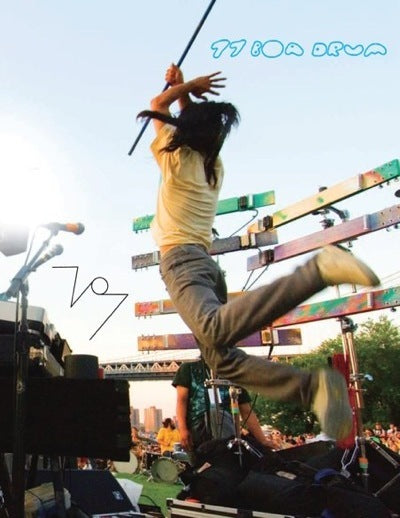 77 Boa Drum
The Boredoms
SOLD OUT
Sold Out!
On July 7, 2007, Japanese experimental barons Boredoms, along with 74 drummers, took over Brooklyn's Empire Fulton Ferry State Park to play a piece called "77 Boadrum", which basically exploded the brains of every person in the vicinity. The drummers included Andrew W.K., Brian Chippendale from Lightning Bolt, Lizzi Bougatsos from Gang Gang Dance, and many other leading lights of avant garde rock.
That day, people who couldn't get into the park climbed the railing on the overhanging Brooklyn Bridge to watch the spectacle, and everyone I knew went home gibbering about what they'd just seen. Now, three years later, we'll get to relive the experience from the comfort of our living rooms.
Thrill Jockey has released the long-awaited 77 Boadrum DVD, the official documentary of that day, in the U.S. The film was created from footage by director Jun Kawaguchi edited together with footage by VBS.tv, Viva Radio, and unknown YouTube tapers. The DVD also includes rehearsal footage and interviews. The American version comes with a series of postcards that weren't available in the Japanese edition of the DVD.