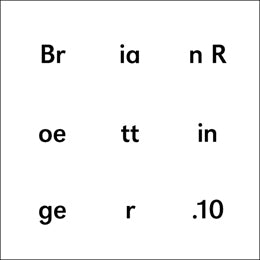 Artist Music Journal 10
by Brian Roettinger + No Age
SOLD OUT
Sold Out!
Edition 10 in the ongoing Artist Music Journals series features the work of the Los Angeles based designer, artist, musician and label owner Brian Roettinger, whose operates the creative umbrella Hand Held Heart. Unlike any previous Artist Music Journal, this installment includes Brian's 24-page book as well as a one-sided 10" record, featuring a collaboration between Brian and No Age with 3 exclusive tracks.
About Brian Roettinger:
Brian lives and works in Los Angeles primarily as a graphic designer. He received a BFA in graphic design from CalArts in 2004. His work encompasses design, publishing, writing and curating as well as running his own vinyl-only record label Hand Held Heart. In 2009 he was nominated for a Grammy for his design of the No Age Nouns album packaging. In 1999 he was providing bass duties for This Machine Kills. He is a part-time professor in the design department at CalArts, as well as a current designer in residency in the Design | Media Arts program at UCLA.
1,000 copies pressed.
EXCLUSIVE 10" collaboration with No Age!
24 page, saddle-stitched art 'zine.
Printed on thick stock and encased in a 10" record jacket.
Letter-pressed sticker featuring the artists signature around the spine.
Each jacket is hand-numbered.
Published by Soundscreen