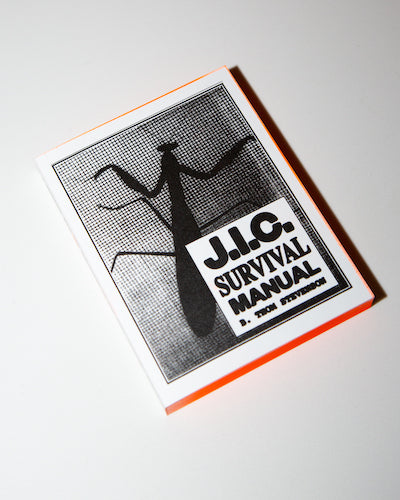 J.I.C Survival Guide
B. Thom Stevenson
Sold Out!
The J.I.C Survival Manual is a pocket-sized scrapbook of wilderness survival tips, culled from artist B. Thom Stevenson's personal collection - his additional notes and illustrations throughout both clarify and obfuscate what these sundry tidbits offer.
Stevenson was drawn to the culture of self-published survival guides when he left Brooklyn for rural Massachusetts with his wife and new-born son. The remoteness came with new anxieties and paranoias. It wasn't only the insights these guides provided but the no-nonsense style of communication the illustrations employed. Stevenson calls it: "Maximum clarity, with maximum alacrity."
These illustrations are intended to be more helpful than artful. Many are by self-isolationists who are nonetheless trying to communicate to a community of kindred-minded souls. The advice they offer evokes fundamental forms of human ingenuity: how to build a house with a hatchet, or make soap from urine. Stevenson trawls through a breadth of material: found in thrift stores, online caches of PDFs, military texts, to principles of resistance notated by 1960s activist group, The Diggers.
The meaning of these images in their original context is unambiguous, engineered to provoke interest and convey a message. "That's their goal and a straightforward means to evaluate their efficacy and value," Stevenson says. There is an unequivocal worth in a drawing that teaches one how to tie a certain knot, roll a joint, or keep mosquitos at bay by rubbing crushed pine-needles on one's body.  
Stevenson's own drawings appear in the mix as a response to the material. A punchline. A note. A rebuttal. Like the doodles one would find in any workbook. The research included leads to more research, in a rhythmic stream-of-consciousness discursive thesis. How to survive a lightning strike becomes abstract images of weather patterns. How to check one's tires leads into a step-by-step technique for flipping another car over with one's front bumper. Comic relief as a means of survival.
This information in book-form itself suggests a post-digital, cataclysmic future. Certain resources disappear without electricity. No generator means no hard drive. No internet means no ready help. It's ironic such a perishable format might be the best vehicle for survival assistance. Survival guides aren't good at surviving. "Books are a luxury," Stevenson says. "It means you have a roof over your head to keep them dry. Books are paper. They are not durable. They can burn. They can get wet or eaten by rats."
A survival guide is literally a means for handling traumatic situations. A book of answers to terrifying questions and propositions: pre-occupations in Stevenson's practice in general. One section offers a list of poisonous chemicals that can be found in Stevenson's own studio. Stevenson says, "I like to think in a post-apocalyptic world I might still be making work."
Published by Extended Family Press (EFP)