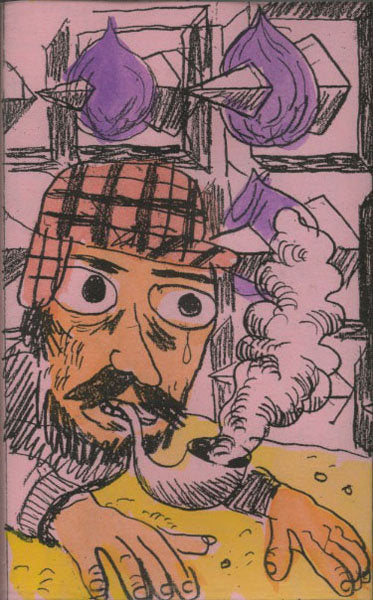 Sherlock Holmes & the Large Door
by Matthew Thurber
SOLD OUT
Sold Out!
Ambergris is the solo project of comic artist Matthew Thurber, the saxophonist in the now- defunct new age jazz band, Soiled Mattress and the Springs. This tape is the follow up to the amazing (and sadly out of print) "Anti Matter Alma Mater". Like the previous album it has a "book on tape" feel, with soundtrack and sound effects.

The A side is the title piece; a surreal story from the unreleased Sherlock Holmes archives. The detective, who we find is prone to walking about "on all fours like a mastiff", attempts to enter a sealed door lined with speared onions. It is refreshing to find a young artist working with actual ideas in this world of visceral and, sometime questionable, entertainments. Although this tale lacks the narrative scope of "Alma Mater" (it is about 1/4 as long), it is something I've returned to again and again whenever I'm sick of music.

The B side is a pair of Thinking Fellers Union Local 282 covers. It's cool to hear someone doing Fellers music faithfully and accurately in this day and age. If by some chance this is your first time encountering this seminal 90's SF band, please do not hesitate to check out some of their stellar albums, which are still available in various formats.